Three locations + online access = the Best Yoga Offer in AZ!
One Intro package, four studios!
Inner Vision Yoga's dedicated and enthusiastic teachers have extensive experience in every aspect of yoga from asana to anatomy to philosophy with an emphasis on cultivating greater awareness.  We offer LIVE and LOVE (LIVE) Streamed yoga classes daily.  Our live classes follow the safest standards and protocol.  All of our teachers are Master Certified teachers or in a Master Certification training program and most have been teaching 10 or more years.
New students, take your pick of our award-winning yoga classes with our New Student Introductory Specials*!
GOOD!  Choose 7 days of unlimited Love (LIVE) Stream classes for just $20.  Click here for online classes only.
BETTER!  Choose 14 days of Live, In studio group classes for just $29!  Click here for on-site classes at all three studios!
ULTIMATE!  Choose 14 days of everything we offer! Live group classes, Livestream classes, on demand database and 24 hour replays for just $49.  Click here for the $49 all-yoga Intro special!
New Student $20 Introductory LOVE (live) Stream Only Intro Package includes…
At least 4 Live classes a day to attend from the comfort of your own surroundings
Access to special community and events free to all package holders
Two REPLAY classes a day to broaden your choices (access up to an hour after start time for yoga when you need it)
Receive a new student discount on your first regular package purchase after your new student introduction.
New Student $29 Introductory Packages (Live In-Studio classes only) includes:
Take your pick of classes at any of our three locations and enjoy our award-winning yoga classes with one of our New Student Introductory Packages.
Choose from multiple classes and locations. Inner Vision Yoga offers more classes than any other yoga studio in the East Valley. All levels, all styles welcome.
Receive special discounts during your new student introduction.
All Access $49 package includes all of the above PLUS:
Live Group classes at any of our three locations
On-demand database of 100 classes to take whenever you want
*Intro packages valid for first time visitors only (Not a student at IVY in the past 6 months), one package per person, must be used within two weeks of purchase. New student package for LIVE on-site group classes are available to local, valley residents only.  This special offer is only valid on your first visit to the studio.  Offer may not be transferred or extended.
LOVE (Live) Stream Testimonials:
"I've found it to be seamless and wonderful!" – C.S.
"I can't tell you enough how much of a blessing your Love stream classes have been for me over these past couple of weeks. It is so wonderful to see your familiar happy faces during this time! It makes such a difference to be able to practice with you and the other local yogis together as a group versus me following a workout on a yoga app. I cant even compare the two.  Thank you all so much for bringing such joy to our lives!" – C.C.
"Thank you so much for this! I pay monthly but travel a lot for work (usually) and really miss my yoga classes when I am on the road. This will allow me to get classes from my hotel room wherever I am. Was hoping and praying you would continue them. I have been loving them at home." J.B.
"Thank you so much for these live streaming classes! I can hardly express how wonderful it is to do a class in real time with your great instructors, knowing that my fellow yogis are also experiencing it along with me. It's the opposite of 'isolation' — it's a feeling of community that we all need now… In addition, it's helpful to have a set time around which to organize my day, something to look forward to, and — it's great to see the studio room and the teacher… A positive all the way around!!" L.B.
Some guidelines to make the practice better for you and your fellow students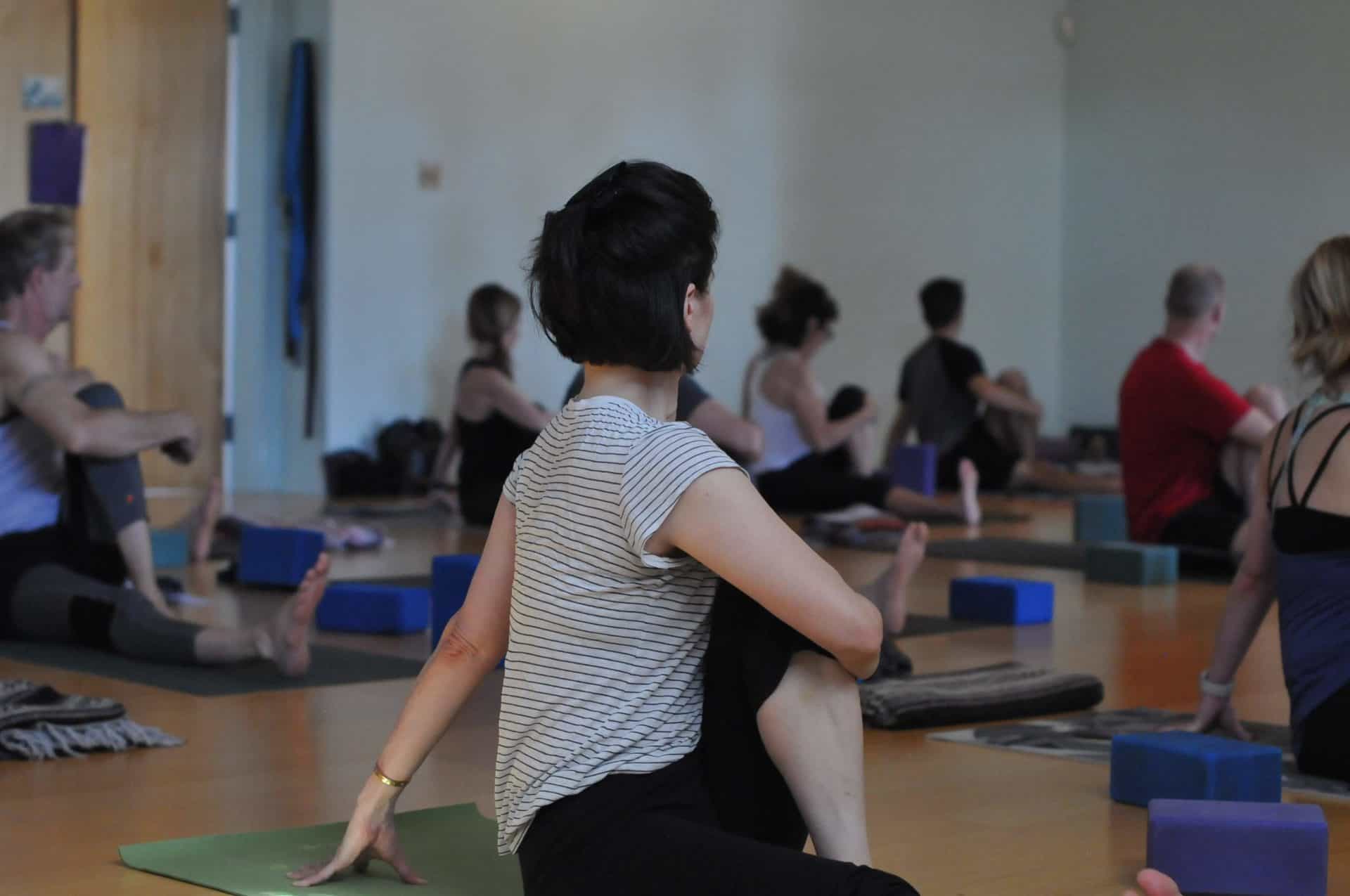 Whether you bring it into class or leave it in a cubby in the changing room, please turn off or completely silence your cell phone (please do not leave your phone on vibrate). A yoga class is a great opportunity to step away from technology for an hour or so!
Please keep your voice low while in the studio, so as not to disturb others who may already be in another class or preparing for their class.
Please arrive a few minutes early to check in for your class, give yourself time to change and set up your mat before class starts. If you must enter the classroom after class starts, please do so quietly. Please note that students arriving too late may be turned away.
As classes fill, please make space for your fellow yogis by moving your mat when you can.
Please refrain from wearing perfume, cologne or scented oils as other students may be sensitive to smells.
If you need to walk across the practice room, it is a good and kind practice not to step on other's yoga mats.
When possible, please allow the previous class in the room exit the room before you enter for your class.
Please take the time to neatly put away any props that you use during your class.
All instruction is a suggestion; nothing is mandatory.  Rest is always an option.
What to bring for yoga class
Coming in before or after work?  Inner VisionYoga has changing rooms and showers available.  As for the class itself, here's what to bring…
Comfortable, non-restrictive workout clothing
A water bottle and towel for heated and more active classes (water is also available on premise, but you will need to bring your own bottle to fill)
A yoga Mat (yoga mats may also be purchased or rented at Inner Vision Yoga)
A change of clothing if you'd like to shower before or after class (soap/shampoo is provided)
Towel and Mat rentals are available for $3.  Props such as blocks, blankets and belts may be brought as needed.
Perhaps the most important thing to bring is yourself — to just show up and give yourself the gift of time spent strengthening and cleansing the body/mind while connecting with your entire being.
I'm new to Yoga.  What should I expect?
Nothing like you've ever experienced before.  Ideally, yoga teaches us to let go of expectations so we can experience life as it is in this moment.
Here is some additional reading:
Studio rules
If arriving late, please be courteous and quiet when entering a class already in session.  Latecomers may be turned away if too late.  Please understand that we try to honor safety and discourage disruptions.
See staff for lost & found items.  Please check on lost items promptly.  Items remaining after 3 weeks will be donated.
Please visit here for latest guidelines and attendance requirements.